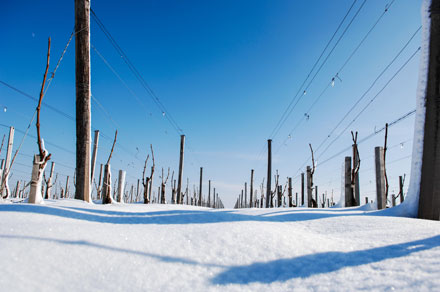 There's no doubt about it, wines from Savoie evoke memories of winter sports and evenings with friends enjoying a raclette or cheese fondue.
But behind this image hide wines with character, some of which are good for cellaring.
The vineyards are scattered all over the region: through the valleys, on the banks of lakes or on the pre-Alp hillsides. There are 3 Appellations d'Origine Contrôlée (Vin de Savoie, Roussette de Savoie, Seyssel).
The climate is typical of the mountains. It can be harsh, but is also tempered by the water from the lakes and streams.
There are something like 2,200 hectares of vineyards producing around 140,000 hl of wine on average. As is the case in Alsace, the wines are always made from a single grape type.
Whites are in the majority (70%), plus there are reds and a few rosés and sparkling wines.
The main grape types for whites are jacquère (majority),aAltesse, bergeron (called roussanne in Rhone) and chardonnay. They produce fruity wines, sometimes with a little residual sugar.
The red wine grapes are gamay, pinot noir and mondeuse, a typical Savoy type that produces an interesting wine for laying down.
Latest vintages
2011: a uniform year, with concentrated, fruity reds with plenty of flavour and with good cellaring potential. The whites are well-balanced and aromatic.
2012: a year of low yields. The whites are seductive and refreshing, while the reds are fruity, juicy and easy to drink.
2013: varied whites of limited maturity. The reds are very good, featuring fine acidity.
2014: a small harvest has given rise to Apremonts and Roussettes of a very high level. In reds, the seductive Mondeuse stands out from the others.